In The Begining...
Mildred L. Batts, a.k.a "Milli Mills", launched Millhouse Entertainment in 1998 in Memphis, TN. The name "Millhouse" originated from a portion of Milli's name, along with the idea that millions could be generated in her house of entertainment to help salvage the needs and appetite of desperately seeking artists, "Serving The Appetite Of The Hungry Artist".
It all began for Milli at the tender age of three, dancing around her living room at home with family and friends. At age seven, Milli's sister noticed the passion and talent Milli had and entered her in a high school talent show. After receiving enormous recognition from the experience, Milli knew that the entertainment industry was the place for her. From there stemmed several middle school and high school talent competitions. Being a small town girl with big dreams, Milli was influenced by Donna Summer, Michael Jackson, Janet Jackson and Prince in her early years.
Wanting to branch out into the business, Milli attended college and majored in a field closely related to entertainment to help solidify her career in the entertainment industry. That field was Speech and Theater with a concentration in Communications. Using her education as a vehicle and networking tool to place her in the environment, Milli received her first break in the industry at a nearby campus radio station AM 1590 KYDE in Pline Bluff, Arkansas as a student intern. Since her university days, Milli has worked in several markets for various radio stations including KIPR Power 92.3 Jams in Little Rock, AR and Delta Force II 104.9 (formerly KCLT) in West Helena, AR, where she served as the Program Director for two years.
For ten years, Milli was in the spotlight in the Memphis market while working for the following radio stations: WHRK K-97 FM, WLOK Gospel AM 1340, WMC-FM 100, KJMS, Smooth Jams 101.1 FM, KXHT Hot 107.1 FM, WSRR Star 98.1 FM and The River WRVR 104.5 FM. While burning up the airwaves, Milli continued to develop her managerial and operational skills with Millhouse Productions by managing and promoting Mid-South artists such as Mr. Del, Miscellaneous, L.E.N. , Men-E-Faces, Don Frison and Are'le.
The development of Milli's managerial skills blossomed when she joined a hip-hop dance troop in 1993 called Suave'ious. At the time, Mildred was an air talent for WHRK K-97 FM, with the stage name of "Milli Mills", and had inside access to upcoming concerts as well as concert promoters. This access, long with Mildred's charismatic personality, led Mildred to becoming the booking agent and publicist for the group Suave'ious. After seeing that she had a knack for promoting, managing and grooming, Mildred went to start her own entertainment company, Millhouse Entertainment.
Who is Milli Mills?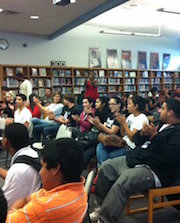 Milli Mills served as an extra in the 1993 Tom Cruise blockbuster movie, "The Firm", and was chosen in 1998 by Ebony Magazine as one of the "Top 25 Most Successful Black Female Singles" in America, voiced many local and regional radio and TV commercial spots, in addition to appearing in several local and regional TV commercials. Two years later, Milli was invited by Memphis' Virgin/Rap-A-Lot Records Hip-Hop Artist, Tela, to appear on his 2000 album "The World Ain't Enough" doing character dialogue bits and chorus hooks to add to her repertoire.
While broadening her horizons in the entertainment industry, Milli relocated to the Dallas-Ft. Worth Metroplex in January 2002. Since then, Milli has formed an alliance with other producers and entertainment icons in the DFW Metroplex; thus expanding her business and achieving a higher level of success. Her skill set was further enhanced by obtaining a Master of Arts in Organizational Management from the University of Phoenix in 2004. For years, ABC Radio Networks has experienced Milli's talents first-hand as she currently serves as a clearance representative and weekend air personality for Today's Hits and Yesterday's Favorites.
In addition to Milli Mills many talents, she is also a voice-over artist, choreographer and upcoming actress. As a new member of the American Federation for Television and Radio Artists (AFTRA), we hope to see Ms. Mills on the BIG SCREEN soon!